My son is a big fan of Power Rangers and Teenage Mutant Ninja Turtles. He watches these tv shows through amazon prime almost everyday along with his older brother. He wanted to be the red ranger since red is his favorite color. Although he likes red ranger he also wanted to be the black ranger. Most of the ninjas he saw on the movies wore black so this prompted him to wear anything black he can grab from his closet that resembles the ninja look. It's fun watching him doing his karate and kung fu moves but I know he would look awesome if he is really wearing a ninja outfit. I know he will love it too. He kept asking me to buy him one but costumes are not always available in the stores unless if it is few weeks before the Halloween and usually they go fast then you are left with only few items to select from. It is also hard to find the right sizes and designs that my kids will like. Going from store to store is also very exhausting and not fun especially I have to tag along three kids.
I am so glad when I was given an opportunity to review a product from

Anytimecostumes

. It is an online store where you can buy costumes for adults, kids and babies. You can place an order anytime and no need to go costume hunting in every stores. You do not have to wait for Halloween to get one, you can order anytime for any occasions like birthdays, events and costume parties . When I told my son that he can finally wear a real looking ninja outfit, he was jumping for joy. We browsed the site together to see what costumes were available. Wow, hundreds of nice selections and I can order the right size that will fit him. We actually had a great time browsing, some costumes are too funny(the characters they are portraying, perfect to give others a good laugh) others are too cute, and makes you feel you are in a character if you wear one.
My son had his eyes on this costume, it has two of his favorite colors, black and red. Although it didn't come with a sword, it's still a great costume.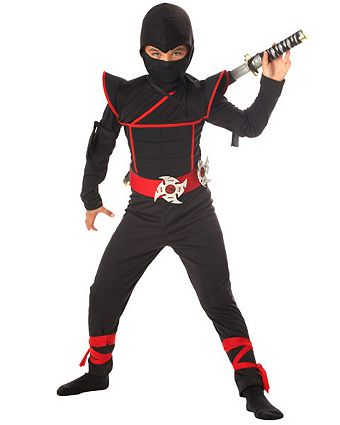 Stealth Ninja
So we choose this costume for review and it didn't take long for the item to arrived. My son is small so we ordered child small size(6-8). The costume cost was $19.97 and the package includes:
jumpsuit with attached hood and ties

belt with foam stars

face mask
Bonus item was included, a ninja figure. My son was thrilled to see that his costume came with a toy.
Bonus item: Ninja figure included with costume
What I like about the product:
good quality fabric and I know they recommended to do spot cleaning but I think I can hand wash the product when it gets dirty and air dry it on a hanger.

it wasn't itchy, the jumpsuit was made from 100% polyester, my son never complains and in fact he wore it three(3) times a week.

i like that it came with a mask, like a ninja it conceals identity made my son feels he is in a character
the red ties on the lower legs came loose and I needed to tighten it up especially after few hours of ninja moves. Although when tied tightly at the beginning, it stayed on place longer.
What I like about Anytimecostumes online store:
you can place an order anytime and they have a same day shipping. You do not have to wait for Halloween to get one. They have clearance sale and offers discount.

you can exchange items if there's a defect or size issue. In fact they included a return/exchange form in my packaging.

they have a lot of costumes to choose from, costumes for babies up to adults are available, not only that, they also have accessories, hats, wigs and more.

you can choose sizes that best fits you,

their service was very prompt, I received exactly what I ordered
My son is all set as a ninja and it's perfect because his birthday is coming up. He can have a costume birthday party.
What are you waiting for my dear readers?
Visit
http://www.anytimecostumes.com
to find out more about their great looking costumes. Follow them on their
Facebook
and
Twitter to get the latest updates of their cool costumes, sales and discounted items.
Disclosure: This is Not a sponsored post. I received the Stealth Ninja Costume from AnytimeCostumes for free in exchange of my honesty review. However all opinions are my own and not influenced in any way.